Outlook.com Calendar
Google Calendar
Yahoo Calendar
Facebook Calendar
Apple iCalendar
Outlook Calendar
Run In Brussels Challenge
This year a new running challenge has been created - the « Run in Brussels Challenge ».
The concept is simple : participate in at least 4 out of a series of 12 races held during the year.
Each race earns you points according to your finishing position, with an extra 10 point participation bonus.
The Relais Givrés will be the penultimate race in the series !!!
Given the nature of a relay race, the individual race position will not be taken into consideration for the challenge.
However 10 points for participation + a special bonus of 40 points, 50 points in total will be given to each participant of the challenge having raced the Relais Givrés 2016.
In addition, every participant of the Relais Givrés who is subscribed to the challenge is offered a drinks token at the tent "Run In Brussels".
For more information and for subscription to the challenge, please visit their website or Facebook page.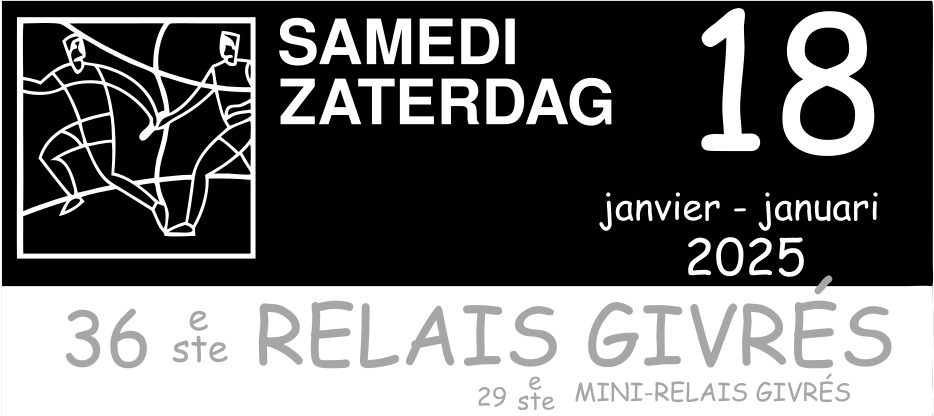 This saturday 16 january 2016 the 29th edition of the Relais Givrés will be taking place, organised by the jogging and triathlon club "Les Lendemains De La Veille".
This competition aims to be :
an event where team spirit takes precedence over individual performance,
an event to meet amongst joggers, friends or colleagues,
an event undertaken in winter conditions.
The concept has the following original features :
five runners, consisting of one lady and one veteran relaying around a hilly countryside course in the Brussels area
each runner in turn running 8 km solo before completing a final grouped lap of 4 km, making the total team distance of 44 km.
A similar concept over shorter distances is offered for children.
The event attracts some 1500 runners and over 1500 spectators.