Outlook.com Calendar
Google Calendar
Yahoo Calendar
Facebook Calendar
Apple iCalendar
Outlook Calendar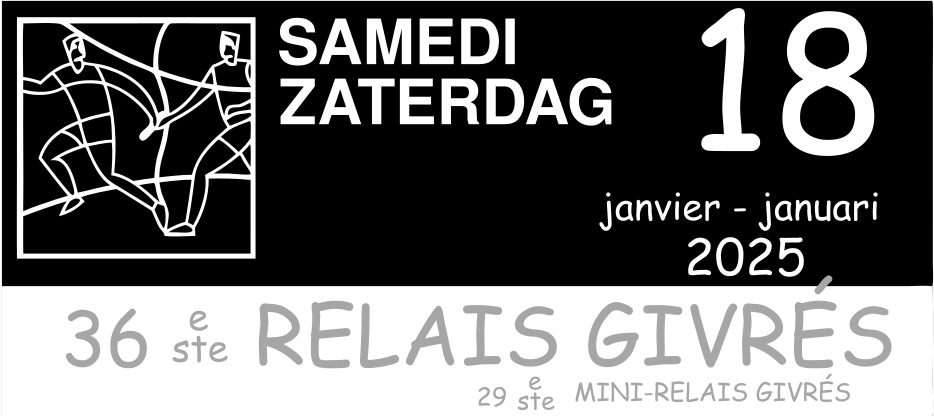 This saturday 20 january 2018 the 31th edition of the Relais Givrés will be taking place, organised by the jogging and triathlon club "Les Lendemains De La Veille".
This competition aims to be :
an event where team spirit takes precedence over individual performance,
an event to meet amongst joggers, friends or colleagues,
an event undertaken in winter conditions.
The concept has the following original features :
five runners, consisting of one lady and one veteran relaying around a hilly countryside course in the Brussels area
each runner in turn running 8 km solo before completing a final grouped lap of 4 km, making the total team distance of 44 km.
A similar concept over shorter distances is offered for children.
The event attracts some 1500 runners and over 1500 spectators.
The registrations 2018 are open
Dear friends and relayers,
Registration for the Relais Givres is now open and, as usual, limited to the first 300 teams !!!
Our objective as organizers is to organize a convivial relay race where:
Team spirit overrides personal victory.
There's chance to mingle amongst fellow joggers, friends or colleagues.
Wintery conditions prevail.
And our original concept:
Five runners, including a lady and a veteran, relay over a green and undulating course in Brussels.
Each runner in turn runs 8km individually before running a final grouped circuit of 4km, thus arriving at a team total of 44km.
A similar concept, over shorter distances, is offered to children from 10 to 14 years old. These are the Mini-Relais Givrés!
But also, we organise again this year the Kids Givrés, inaugurated last year. This race is for the younger ones (3 to 9 year olds). There will be a race on 500m for children of nursery school, a race on 1000m for children of 1st and 2nd primary school, en finally a race on 1000m for children of 3rd and 4th primary school.
So in short, mark your calendar for Saturday 20th January 2018 as from 12AM for the Kids Givrés, from 12:55AM for the Mini-Relais Givrés en from 1:00PM for the Relais Givrés.
Looking forward to seeing you all again,
Sporting regards,
Les Lendemains De La Veille
Run In Brussels Challenge
A new running challenge was created in 2015 - the « Run in Brussels Challenge ».
For more information and for subscription to the challenge, please visit their website or Facebook page.